Did you know CE Broker has free mobile apps for both iPhone and Android to keep up with your busy life? In addition to checking your compliance, you can also report course completions directly from your phone. After entering your course information, allowing the app to access your phone camera gives you the ability to take photos of your certificates. No need to scan anything!
How to self-report CE/CME using the mobile app:
Open the CE Broker App on your mobile device.

Enter your username and password.
You cannot create an account from the App. You must create an account from a web browser.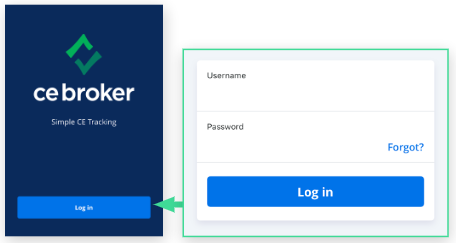 Once you are logged in, you will be directed to your Home dashboard.
If you have more than one license registered in your account, your dashboard will automatically display info about the license you first registered in your account.

To switch between licenses, select the dropdown arrow at the top of the dashboard next to the license number.

From the dashboard, you can select the license that you want to review the course history for.

From the course history, select the arrow at the top left to go back to the dashboard to select a different license.
3. Click the green Report CE button to report a continuing education activity.
4. Swipe left and right to move forward and backward to navigate steps in the reporting process.
The reporting process will ask you a series of questions about the continuing education you wish to report. Once you have answered each prompt, please prepare to upload documentation as proof of completion.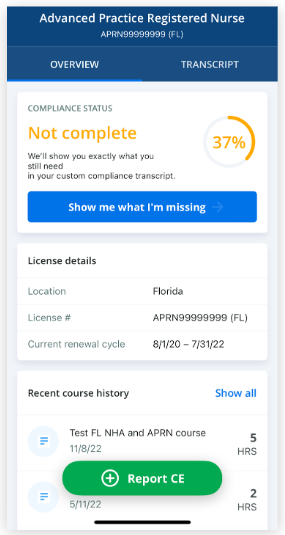 5. The app gives you multiple options to upload your certificates of completion.
Scan documentation. Select this option to launch your mobile device's camera and take a photo of your certificate.

Select image from camera roll. Select this option if you have already taken a photo of your certificate prior to starting the reporting process in the app.
6. When you are ready, press Submit to report your completion to your board by adding it to your account. This final step will ask you to certify that your answers are correct to the best of your knowledge.
You will see a confirmation page if your submission has successfully been added to your account.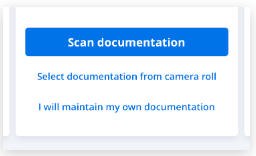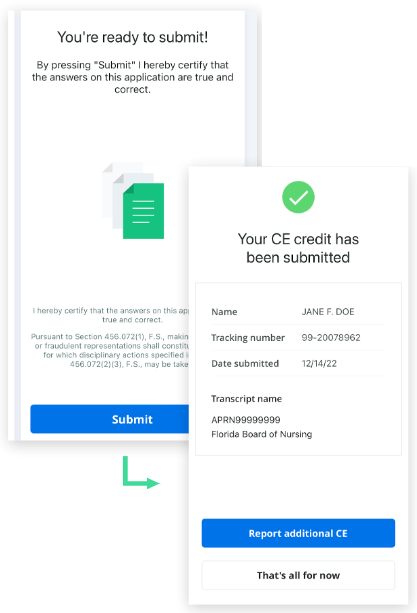 From here, you can start the reporting process from the beginning if you need to report another activity, or you can close out of the reporting process.
For best performance, always ensure your software is up to date and you are using the latest version of the CE Broker app.